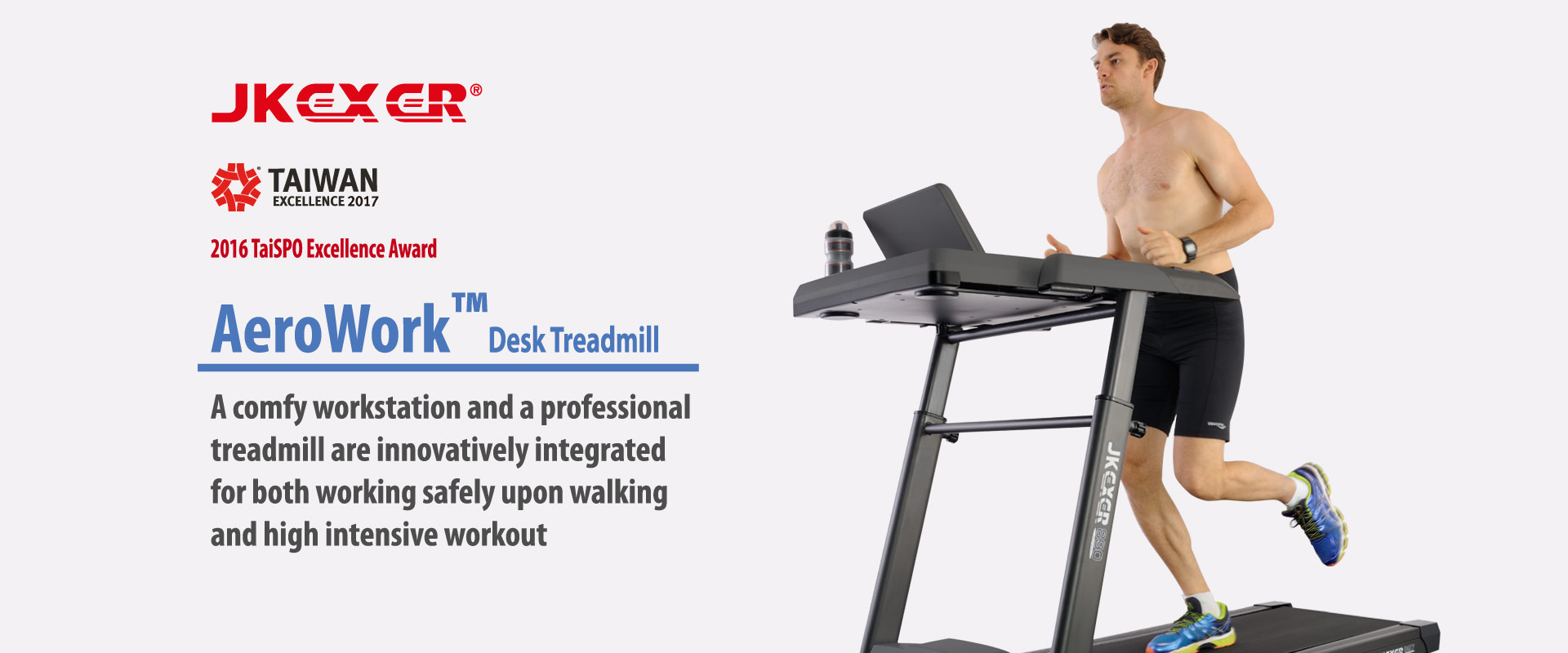 Specification
Model
AeroWork 890
AeroWork 897
Main Console (For Running)

Display: 1 Backlit 150 x 82 mm LCD, 2 DOT Matrix
Function: Speed, Distance, Incline, Calories, Time, Pulse, Level, Program, Age, Step, Lube Alert
Program: 12 Preset / 3 HRC / 3 Target / 2 User

Secondary Control Panel (For Walking)

Display: 50 x 20 mm LCD
Function: Time, Speed, Distance, Calories, Pulse, Step

Motor
2.7 HP Duty
3.0 HP Duty

Speed Range

0.8 ~ 16 kph (0.5 ~ 10 mph) For Running
0.8 ~ 6 kph (0.5 ~ 4 mph) For Walking

0.8 ~ 18 kph (0.5 ~ 11.2mph) For Running
0.8 ~ 6 kph (0.5 ~ 4 mph) For Walking

Gradient
12% motor inclination for Running mode Non-adjustable for Walking mode
Running Size
510 x 1400mm (20 x 55")

Shock Absorber
Patented 5-Level (ASA) Cushioning System

Transports Wheels

4 Wheels with Patented "SWITCHPRO" Controlling Knob for easy moving and leveling

Built-In Receiver
None
Yes
Bluetooth / App
None
Yes
Fan
None
Yes
HD Speaker
Yes
USB Port / Charger
Yes
Handlebar Control
Speed & Incline

Foldable
Yes
Quick Speed & Incline
Yes
Maximum User Weight
136 kg (300 lb)
140 kg (308 lb)
M'ST / N.W. / G.W.
24' / 99 / 111 kg
24' / 102 / 114 kg
20' / 40' / 40' hq
42 / 88 / 88 pcs

* N.B. all the specification of the product in this catalogue is based on the goods itself.
* We reserve rights to make change at any time without notice, in colors, parts and materials.

Worldwide patented FilpTop

design makes it not just a treadmill with desk to walk at work, but also a standard treadmill for high intensive workouts anytime.

Easy to build your walking office anywhere, and at the most attractive price.

Rather than daydreaming at the desk, walking on the treadmill keeps you motivated and focused on works, favorably boost your productivity and creativity.

1-minute Tool-Free easy assembly

Run with max speed up to 18/16 kph
Mandatory safe working upon walking with limited speed of 6 kph

7-range Height adjustable front post

3-range Fore / Aft moveable desk top

With 5 Patents
1.FlipTop design

Switch to running or working mode in a second.


2.1-minute Tool-Free easy assembly design

Tighten 4 knobs and insert the lock pin. AeroWork is ready to go.
3.SwitchPro Knob

Allows easy moving and effortless leveling. No need to tilt the 100 kg machine back and forth to adjust the tips for leveling.

4.Step Count computer function

To track your workout status in the working mode.
5.5-level ASA cushioning system

5-level shock cushioning reduces up to 30% impact to protect your knees and joints.